Ticket Information
---
How to Order
Order Online
Order By Phone
Call (1) 604.631.2877 (additional $5 per order for phone orders)
Group Sales 20+: Call (1) 604.734.1917
Call Centre Hours
Monday to Friday: 9:00 am to 5:00 pm

(Starting June 16, 2019)
Monday – Sunday: 9:00 pm to 5:00 pm
For additional weekend assistance, e-mail ticketstonight@tourismvancouver.com

In Person Sales at the TUTS Box Office
Malkin Bowl – Stanley Park
Open daily from 2:00pm to 8:00pm beginning July 5, 2019
(2:00pm-7:00pm on early start shows July 27 & 31 and Aug 3)
---
2019 Single Ticket Prices
Show dates: JULY 9 – AUGUST 24
TICKET PRICES
Centre
Front
Front Sides
Rows 17-25
Rows Y,Z
Adults
$55
$50
$40
$30
Youth (Ages 13-18)
$30
$30
$30
$30
Child (Ages 5-12)
$30
$30
$30
$30
Group (10 or more
people)
$5 off above prices
Preview Nights (July 5-8) and Super Monday (August 5)
TICKET PRICES
Centre Front
Front Sides
Rows 17-25
Rows Y,Z
Adults
$45
$40
$30
$20
Youth (Ages 13-18)
$20
$20
$20
$20
Child (Ages 5-12)
$20
$20
$20
$20
Group (10 or more people)
For Previews and Super Mondays, no additional discounts apply
Unless you have purchased Exchange Insurance, all sales are final. Unfortunately, we are unable to exchange or refund tickets once they have been purchased, except in the unlikely event of a cancelled performance. See the full details on our exchange policy.
Seating Map
Click on the image below to view a larger version of the seating map (opens in a new browser tab):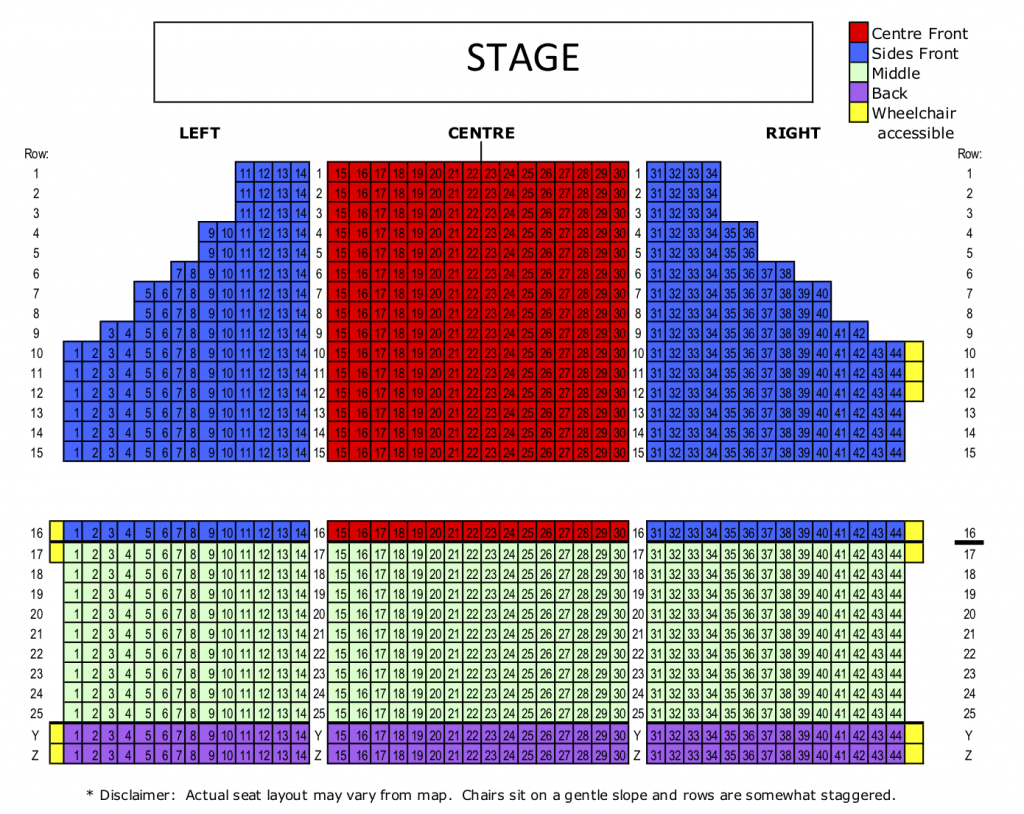 ---
Exchange Insurance
If you are concerned about inclement weather, or think you may not be able to attend a performance, your option is to purchase EXCHANGE INSURANCE.